Machinery Pete: Capitalize On A Buyer Sweet Spot
September 06, 2019
There is real value in looking to buy a 4-to-8-year-old used tractor—or combine, or any piece of farm equipment. I see two main reasons for the value hot spot in that range:
The cost of new equipment is so high, and it keeps inching up every year.
Used values tend to flatten out once you go beyond the magical 10-year-old range.
Even in today's challenging ag economy, the trend of very nice condition equipment over 10 years old is in high demand. In fact, it's gotten stronger. If you follow me on online or on social media, you know it's true.
When times are tough, increased buyer demand zeroes in on the nicest used equipment, particularly over 10 years old. So when that nice condition 10-to-20-year-old, low-hour, one-owner, always-shedded piece of machinery is up for sale, everyone takes note.
Historical Perspective. It's not just in 2019 our auction sale price data has found the 4-to-8-year-old sweet spot. The data has shown this for decades.
And, here's the thing: That great condition, 5-year-old piece of machinery you're looking at with low hours will age well. Whether on a dealer's lot, private sale or at auction, five years later it'll likely be a 10-year-old, low-hour, nice condition item everyone will want.
Countless folks ask: But Pete, this trend can't continue because those 10-plus-year-old used tractors and combines will soon be Tier IV/DEF. All those electronics, can't work on them like the older models. There just won't be the same strong buyer demand.
For every 10 folks I talk to, 9.8 don't think this trend will continue. Me? I think the trend will hold.
Why? Math and dollar bills. Do you think new models two, five or 10 years from now will be cheaper? Nope. The rising price of new machinery pulls up on the value of good condition used equipment.
One interesting mini trend I've seen came in 2015 when dealers were stuck with too many large, late-model machines. Farmers couldn't get much for trade, so many shedded their nice condition 3-to-5 year-old tractors and leased for the warranty protection.
Farmers knew their low-hour tractors in sheds weren't far from that magical 10-year-old age. Plus, the machines had low hours and were in great condition. They knew everyone would want them. Bingo.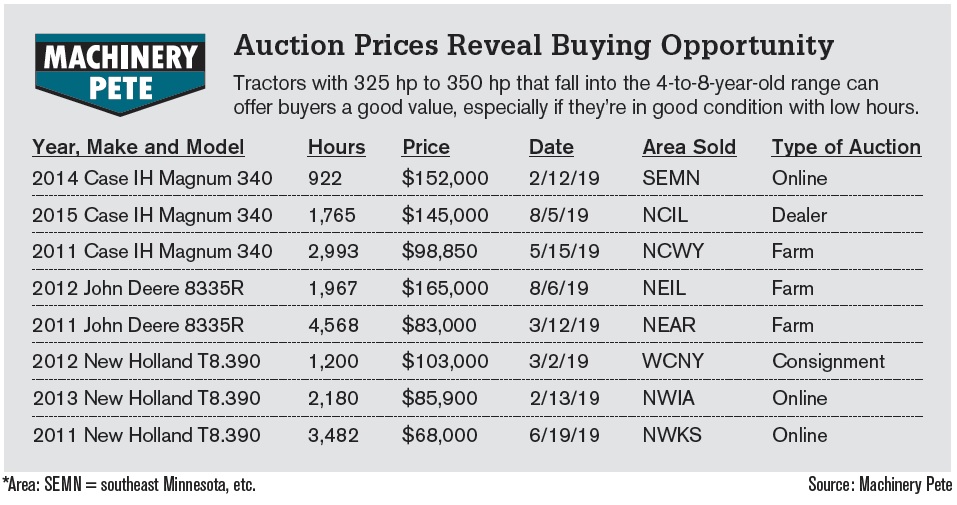 Greg Peterson is the most trusted name in farm equipment. Since 1989, he has worked with a network of 1,000 auction companies to track used equipment prices. His website, MachineryPete.com, features equipment listings from dealers and equipment for sale at upcoming auctions.
Back to Articles